Tire Replacement near Me

---
Tires are a key part of your vehicle and replacing them helps keep your vehicle running more efficiently and safely. Drivers around Shreveport, Bossier City, and Stonewall, Louisiana, can get their vehicle's tires replaced at Rountree Ford.
If you're not sure what goes into replacing tires or when your tires need to be replaced, take a look at this page.
---
---
​
Why Replace Your Tires?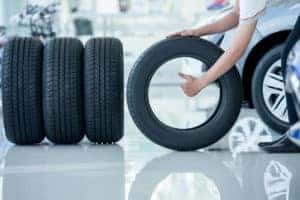 Replacing your tires helps keep you safe. When tires wear down, they do not grip the road well, are more prone to blowouts, and can make your braking less effective. Keeping your tires inflated properly can help maintain their good condition for longer.
Depending on what type of tire you have, the manufacturer, and how much you drive can all affect when your tires need to be replaced. On average, tires should be replaced every six years.
Signs Your Tires Need Replacing
There are a couple of signs that let you know that it's time to replace your tires. A couple of signs to keep your eye out for are:
Bubbles and bulges in your tire
Vibration in the steering wheel
Sidewall cuts or cracks
Debris embedded in tires
A test to check your tires at home is the penny test. Take a penny and turn it, so Lincoln's head is in the tread. If the top of his head disappears, your tire is fine. If you can see his head, it's time to replace your tires.
If you're ever not sure, bring your vehicle in. Our team can check it out!
Tire Replacements at Our Service Center
Tire replacements are one maintenance service that our service center can handle. We've got highly experienced technicians who know how to take care of your vehicle and quickly get you back on the road.
Our service center even has a full lineup of tires to help you get the right ones for your ride. Some of these brands include:
Goodyear
Michelin®
Bridgestone
Our service center can also handle any other maintenance needs you have, and we'll use Original Equipment Manufacturer (OEM) parts when working on your vehicle.
---
Schedule Your Tire Replacement Today
If it's time to get your tires replaced, our service center at Rountree Ford is here to help. It's easy to schedule an appointment. Drivers from Shreveport, Bossier City, and Stonewall, LA, can schedule online or give us a call.
---